Terrace Screens
Terrace screens and café barriers are the perfect solution to develop your terrace, patio or pavement space, shielding alfresco areas from the wind and improving street-level presence.
Ideal for use by restaurants, coffee shops, theme parks, pubs, bars, sports complexes, schools, and in private gardens, these attractive terrace screens are available in a variety of styles, colours and sizes. They are perfect to promote your brand, define your outdoor area and increase the comfort and use of your outdoor areas, transforming them into places where you and your customers can relax and enjoy the alfresco ambience.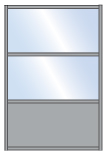 In addition to an extensive range of standard screens and accessories, bespoke solutions are available. Terrace screens can be supplied matched to corporate colours, with logos, branding or an advertising message pre-applied, this will increase the visual impact of your premises helping to attract passers-by and increase footfall.
Terrace screens are manufactured to the highest quality. All glass is 6mm toughened safety glass, framework and brackets are powder-coated aluminium and for increased durability fixing hardware is hot dipped galvanized steel. With minimal maintenance your terrace screens will look good and enhance your business for years to come.
Define your outdoor area, increase your seating capacity and make life outdoors more appealing with terrace screens.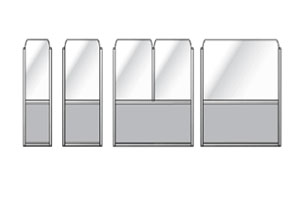 The Roma
With large high protection glass and rounded corners.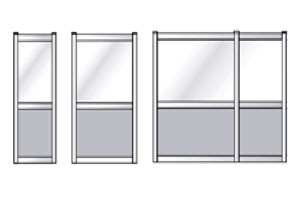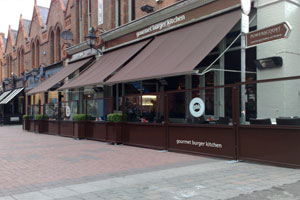 The Milano
With safety glass and upper edging.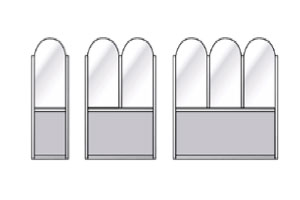 The Venezia
With arch safety glass.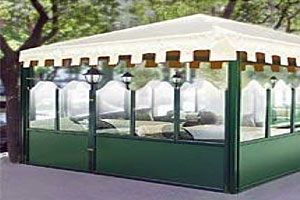 Firenze Model
With safety glass and upper edging.
Our modular outdoor terrace glass screen systems offer a flexible approach to creating a comfortable outdoor area. Primary benefits include the increase in seating capacity and improved overall image. The screens are manufactured for BHMA and carry a One year warrantee on the Aluminium frame. They can be floor fixed or easily moved on a daily basis. Advertising on the side banners allows complete flexibility and the ability to have a supplier sponsor the purchase for you.
Made from Aluminium.
Modular System to Fit Most Areas
Extends Your Trading Area
Creates an Exterior Smoking Area to Comply with the New Laws
Creates a Windbreak
Allows for Saleable Advertising Space
Matches Your Branding
Bolted Down or Moved Daily, is Your Choice
Value for Money
Guaranteed
Manufacture in size of 1mtrs x 1.5 /1.8 in hight and 2mtrs x 1.5 / 1.8 mtrs
View our selection of Fabrics this product is available in »
Save
Save