Awnings.ie is now offering a new generation of awning fabrics for new and replacement awnings and canopy coverings with incomparable properties and performance levels to revolutionize the outdoor decorating market.
Its technical characteristics have been improved to meet the changing market demands and meet consumer expectations in terms of durability and solar protection.
Greater water-resistance (Schmerber 370 mm instead of 350 mm), better protection (tighter weave: 0.11% open instead of 0.36%) and more stable, the new generation Acrylic anwing fabric is even more high performance than ever before.
SOLID COLOURS
PLAIN COLOURS
WATERPROOF
Stripes take on a new twist, have fun with colours and flood both small and large areas.
CLASSICAL
BLUES
YELLOWS
REDS
 GREENS
GREYS
BROWNS
Recommended use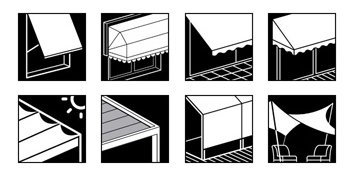 Awning Fabrics and Canopy Fabrics – New and Replacement.
Characteristics
Composition : 100% solution dyed acrylic
Finish : Cleangard special dirt-resistant and water resistant treatment
Weight : 290 g/m²
Guarantee : 10 years
To view other available colour ranges for our products, please download the PDF file below.